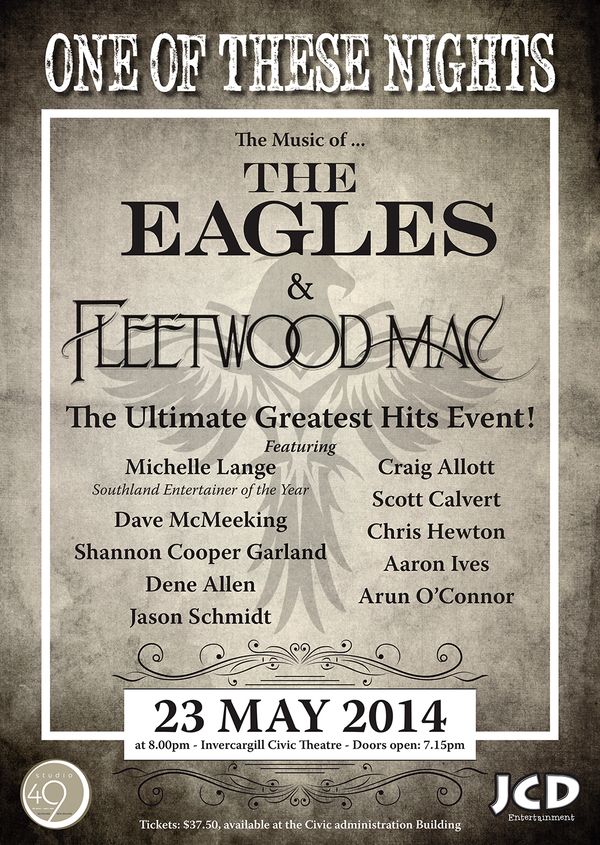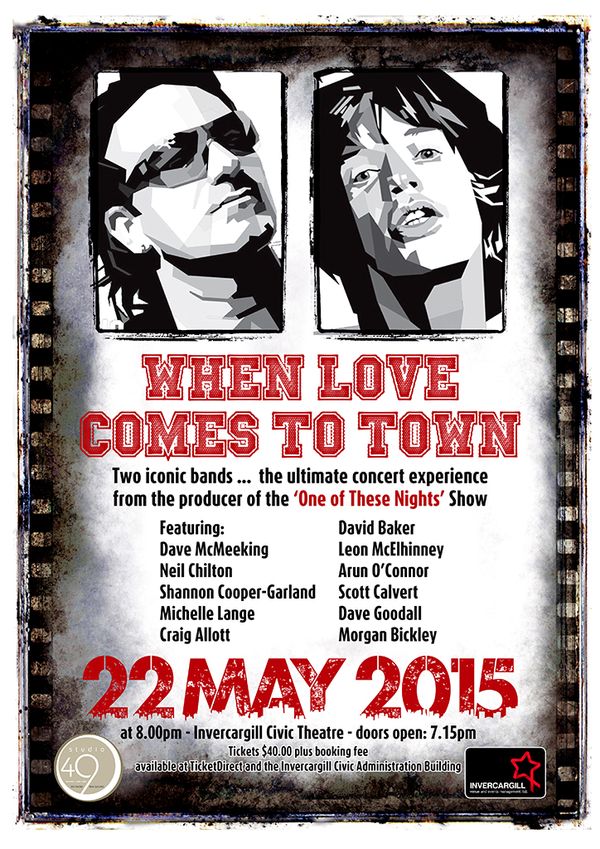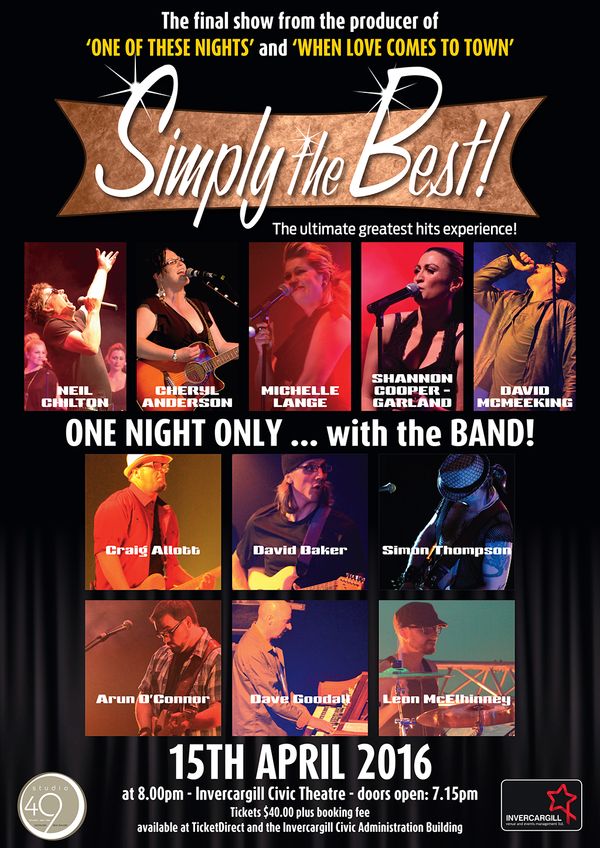 One Of These Nights Review by Chris Chilton

REVIEW: Craig Allott had a dream. It went something like this: "I've always dreamed of playing music that I love to a soldout crowd at the Civic Theatre. Who knew ...?" 
The dream became reality at the Civic as the Invercargill musician closed the show he had masterminded with a spine-tingling, achingly beautiful rendition of the Eagles' ballad Desperado. 
The song, and the show, drew a standing ovation from the capacity 900-plus audience who had witnessed one of the proudest nights in Southland entertainment history. 
On a scale of homegrown achievement, this felt like a Ranfurly Shield win. 
Ten of Southland's finest singers and musicians pooled their considerable talents to present more than two hours of mostly flawless, at times perfect, performances of some of the world's best known and most loved music. 
Throughout the entire show the uncharacteristically animated Southland crowd was right behind the band, whooping and cheering on their hometown heroes. The atmosphere in the theatre was fizzing with expectation that did not go unrewarded. 
The first half was all Fleetwood Mac, hit after golden hit, with the vocals of Stevie Nicks and Christine McVie sublimely interpreted by Southland Entertainer of the Year Michelle Lange and the artist who has won that title three times previously, Shannon Cooper-Garland. 
The complexities and subtleties of Fleetwood Mac's music were all faithfully reproduced - every keyboard swell from Scott Calvert, every bubbly bass guitar run from Chris Hewton, every guitar nuance, all galvanised and driven with precision by drummer Aaron Ives. From the dynamic crescendo of the opening song, The Chain, sung with joyous abandon by an excited Dene Allen, to the rich wall of elaborately harmonised vocals supporting Lange on Gold Dust Woman, this was as close to the real thing as many in the audience will get. 
A highlight among many in the first half was Jason Schmidt's extraordinary demonstration of technique and dexterity as he nailed Lindsay Buckingham's complex guitar and vocal masterpiece Big Love. 
Another was Allott's epic, echo-drenched guitar solo in Cooper-Garland's You Make Loving Fun. 
In the second half, with the checkered shirts signalling a country set, the front of stage was owned by Dave McMeeking, whose voice is as close a match to Don Henley's as you could hope to hear. 
The wind beneath his wings came from the airtight musical backline in which Arun O'Connor and Schmidt soared with their exquisite guitar work, culminating in tag-team guitar heroics in Life In The Fast Lane and Hotel California. 
O'Connor and Allott also featured prominently on lead vocals in this set, as the band dialled into the Eagles' laid-back melodic country rock groove. 
By the time they hit Heartache Tonight it was party on to the finish line, brought to that memorable conclusion by Allott's Desperado and a compulsory encore of Life In The Fast Lane.
Craig Allott's Southland swan song a true rock celebration 
Tribe Southland came out to support its own for Simply The Best, and the tribe went home exhilarated. 
This third edition in a trilogy of shows featuring an all-star lineup of Southland A-list musical talent was everything the first two shows had been, with the added poignant kicker that this would be producer Craig Allott's last before moving north. 
Performed at the Civic Theatre in Invercargill on Friday, it was billed as a greatest hits show, plucking some of the best performances from the first two shows - One of These Nights in 2014 and When Loves Comes To Town in 2015 - as well as a crowd-pleasing bracket of 80s rock anthems to kick it home in the second half. 
In the intimate setting of the Civic Theatre auditorium, with a full house in close proximity to the performers, there was a lot of interaction between the two. Members of the crowd yelled encouragement to their mates on stage, clapping and cheering as the mood struck, while the stage had so many live microphones on it that almost every on-stage comment between musos could be clearly heard through the PA. It brought the audiences and entertainers closer together and injected an element of humour into the show, which had a nice relaxed vibe to it, even though the musical performances were superb and at times stellar. 
Logan Hampton's economical lighting painted dramatic, ever-moving pillars of light and Iain Sweetman's sound mix was top class, with vocals and instruments clearly defined and audible at rock show volume. The stage was well set for a big event. 
It started as the first show had, with a bracket of Eagles songs led by singers Dave McMeeking and Arun O'Connor.  
O'Connor proved to be the key figure in the first half, handling a good chunk of the lead vocals and contributing a jaw-dropping sequence of world-class lead guitar work, often in combination with Simon Thompson and David Baker. 
O'Connor played an absolute blinder, probably one of the best guitar performances Southland will see or hear this year. 
The big projected stage backdrop then signalled the arrival of the Fleetwood Mac bracket, where it was the vocalists' turn to shine. 
Shannon Cooper-Garland commanded centre stage during Gypsy and Rhiannon, before Michelle Lange had her turn with Tell Me Lies and that thoroughly gorgeous great old song Silver Springs. 
The first half ended with Don't Stop, and a cute cameo by Allott's five-year-old son Harrison, who threatened to steal the show as he strummed the ukulele, happy up there on stage with his dad. 
If the first half was mostly pop, the second half was a rock show spectacular. 
The tongue logo announced the arrival of a Rolling Stones set fronted by the charismatic and hyper-expressive lead singer Neil Chilton, who stomped on stage full of fizz and vinegar and didn't let up. He was on fire during his set, strutting, shimmying and sashaying around the stage like Mick Jagger himself and even drawing some screaming from the ladies with an exaggerated wiggle of the hips. 
Chilton relished the rock star role he's enjoyed many times before and left everything he had to give on the stage. 
Excitement levels were ramped up during the Stones set by the addition of Queenstown muso Nigel Hirst's soaring, stonking sax solos, while in behind Dave Goodall's Hammond organ flourishes swirled through an enormous revolving Leslie speaker. 
A highlight was the thunderous version of Gimme Shelter, where Cooper-Garland's vocal breakout and a sizzling guitar solo by Allott - who'd swapped bass-playing duties with O'Connor at halftime - elevated the song to dizzying heights. 
Chilton also threw himself into the role of Michael Hutchence for a bracket of juggernaut INXS songs, an inspired new set which was a huge hit with the crowd. The band's energy level went to defcon three and inhibitions had long been cast aside as Chilton leapt off the stage and stalked the stalls while still singing The Devil Inside and Baker finished the song lying on his back, coaxing a gale of feedback from his guitar. 
There was humour when a front-row dancer asked if the band would play Mustang Sally - it wasn't on the set list, Chilton informed him, with tongue in cheek, and neither was Wagon Wheel - and there was also that transcendental moment after the quiet intro to Never Tear Us Apart when Leon McElhinney's drums kicked in like a salvo of cannon fire and you just felt in your bones that you were officially at a great rock show. 
Vocal powerhouse Cheryl Anderson was unleashed like a caged lion for a blistering brace of Journey arena rock songs, including her signature Don't Stop Believing, before Allott stole a quiet, thoughtful moment for himself to say his thank yous and goodbyes and bring out his old mate Brendon Burgess on keyboards to sing an emotionally charged Desperado, which earned a standing ovation. 
There was one more surprise in the tank, as the band blasted out Toto's urgent Hold The Line, and a supercharged Dave McMeeking and Michelle Lange got to stretch their vocals cords to those ethereal highest places. 
It was a memorable finish to a memorable trilogy of shows. It may have been Allott's swan song in the south, but this was also a celebration of the Southland music community and what brilliant things can be achieved here.